Charger Station for Wind and Solar Power with Mobile Phone cable accessories (MC-1)
Mobile Phone Charger is designed to work with Wind Turbines and Solar Panels to charge Mobile Phones or electronic devices.
Since you will not leave your mobile phones or electronic devices under the sun or wind for hours for charging, intermediate rechargeable batteries are connected to this charger for charging first. When these batteries are charged up, you may then connect your electronic devices or mobile phones to the output connector for charging. Charging Cable with several Adaptor Connectors for different mobile phone types are provided.
Boost Up regulator circuitry is used in this charger to convert the input voltage to 5V output. The input voltage range is 1.8V to 3.6V. Input voltage higher than 4.8V will damage the Boost Up regulator circuitry permanently. In order to protect the Boost Up regulator, make sure you install the primary batteries when charging from the external sources or to the mobile electronic devices. The primary batteries also act as a voltage stabilizer to clamp the input voltage.
Input Source 1

Wind Turbine

Input Source 2

Solar Panel

Energy Storage

AA Battery x 2
AAA Battery x 2

Output

5V / 250 mA DC

Mobile Phone Charger Accessories

Cable for Phone Charger Adaptor
Dimensions
Product

36(H) x 58 (W) x 101 (L) mm, 95g

In Giftbox

37 x 71 x140 mm, 105g

In Carton

800 x 400 x 240 mm

11 Kg

100 Sets / Carton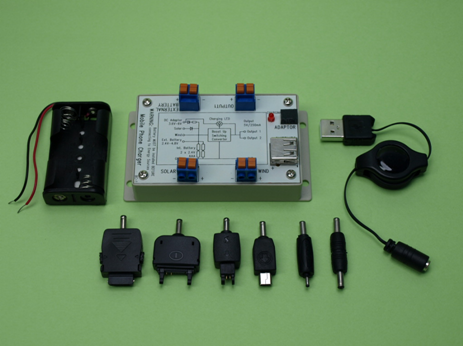 Charging iPhone in a Complementary Renewable Energy System